Uniformer's aprons are made using quality fabrics, and are designed for hospitality venues including cafes, restaurants, hotels and bars. These aprons are crafted with comfort and ease of wear in mind, whilst still being stylish. Add your own logo or branding using our embroidery and customisation services.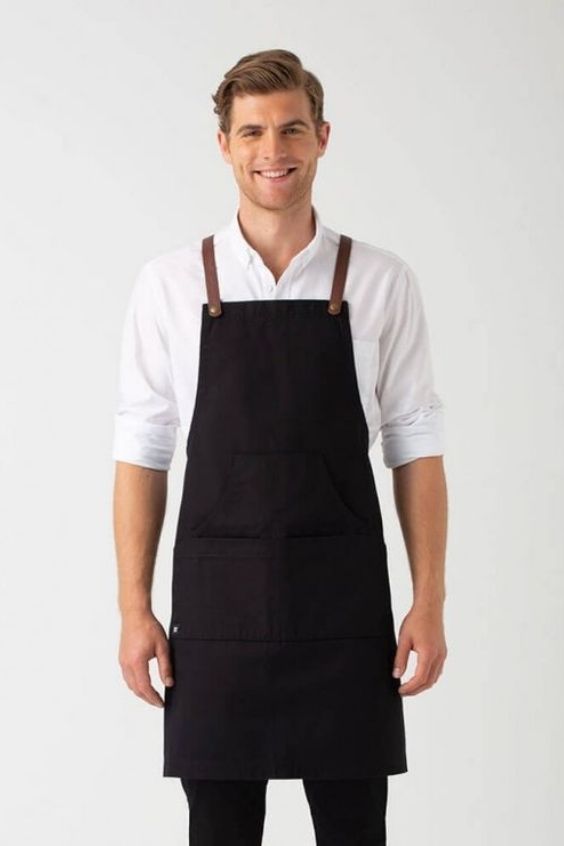 Combining full coverage protection with style. 
Bib aprons are a must for any new restaurant. A perfect addition to your kitchen wear collection, these aprons have been designed with comfort in mind. With reinforced stitching and hidden elastic at the back waistband, this bib apron won't stretch out of shape over time. It is also great for protection against splashes or drips from the frying pan while cooking up some delicious food.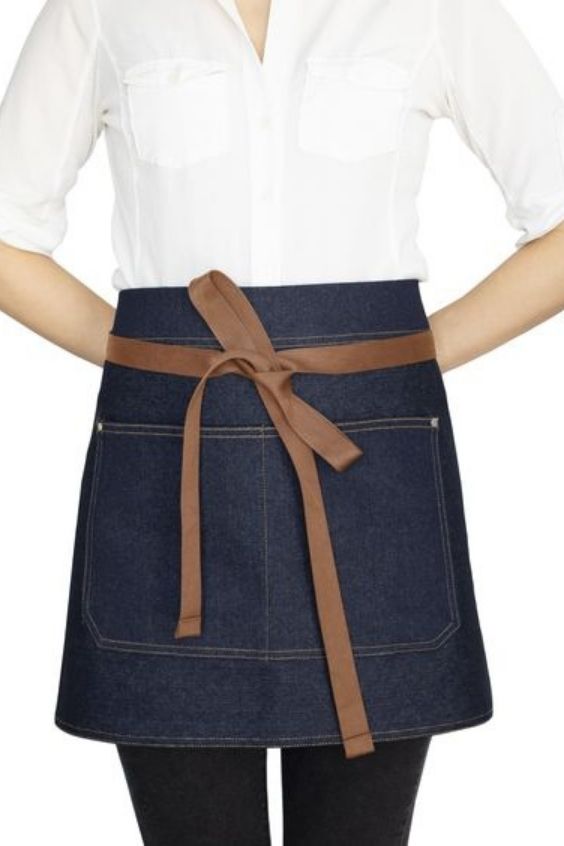 Ideal for use by front of house and fine dining wait staff.
Our Hospitality Aprons are designed to keep your staff looking sharp while they work hard. Available in a variety of colours, these aprons are made with durable polyester fabric and offer adjustable Velcro straps at the waist and neck for an easy fit. The backside is fully finished with interior pockets for storage and drying. Our Hospitality Aprons also make a great gift for restaurant managers, waiters/waitresses, bussers and anyone who works in the food & beverage industry! Customise it! Add your logo or design to turn it into a marketing tool for your business!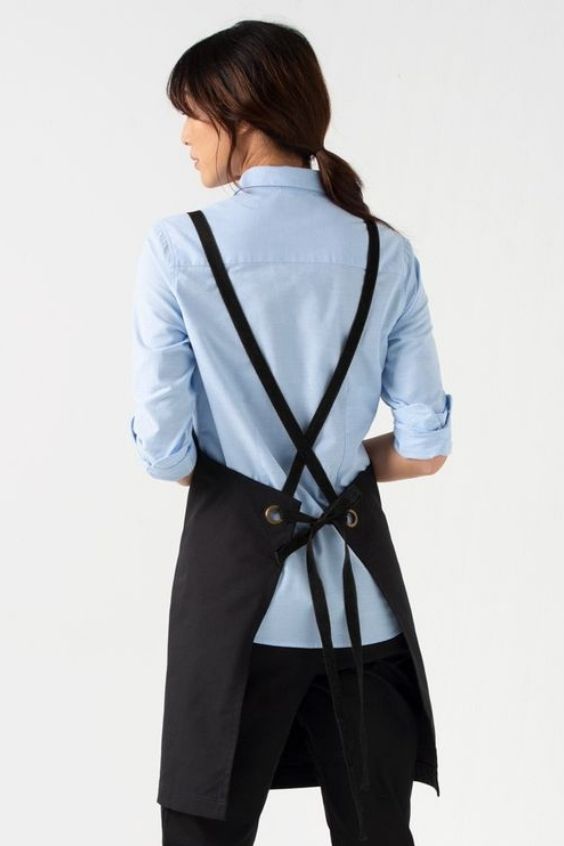 Cross back aprons are ideal for distributing weight across the back.
Our Cross Back Aprons are made of our Heavyweight Polyester material. This durable apron is built to last and is great for restaurants, bars and more! The aprons come with 2 x belt loops for extra storage as well as side pockets that are perfect for holding saltshaker or other kitchen accessories. Our aprons also feature an adjustable neck strap that ensures a comfortable fit for the wearer while also keeping the apron secure. These aprons come in a variety of colours to help match your restaurant's theme or design. Make sure to add our Heavyweight Polyester Apron Laundry Bag to your order
Bulk Buy Quality Aprons Online
Hospitality is all about comfort and style. Our aprons can help your hospitality business stand out from the crowd, while offering a professional appearance. Made from high quality materials, combined with attention to detail, will ensure your staff look smart and feel comfortable while working. Our wide range of aprons are available in a variety of colours, sizes and styles to suit every event or task.
We are an online store that carries a wide variety of aprons. We offer the highest quality designer aprons for cooking and hospitality in unique designs as well as personalised aprons for special occasions or just because you want to be different! Also we have aprons for making crafts, baking, grilling and all kinds of other things! If you want an apron with an old world charm then you will love our antique reproduction cloth aprons. Or if you prefer something modern and super stylish then our digital printed aprons are the way to go. 
 Our denim aprons are made of a heavy-duty, long lasting fabric that can withstand rough conditions in day-to-day tasks.
Our Denim Apron fabrics bring everyday entertaining to a new level of sophistication and elegance. Made from 100% cotton denim with soft handfeel, these can be used for wears such as restaurants, fine dining, hotels, resorts, catering companies, caterers and other hospitality uniforms. The fabric is made by either ordering butchers white apron that will last through many washes or through printing inks with food-safe dyes. Washes should be done using colder water and air dried
Our canvas aprons are a heavyweight canvas that is functional & comfortable for a modern workforce.
Canvas Apron fabrics are durable, washable fabrics with drape that won't fade. Great for cooking, grilling and serving at outdoor events or indoor restaurants. These apron fabrics are offered in a variety of colors and sizes to match your kitchen decor.